Post by mule on Jul 2, 2021 3:30:38 GMT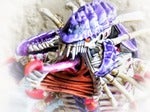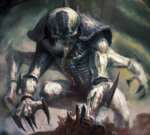 Oh I love genestealers I just don't think they fit the tyranid narrative anymore and I think all the genestealer lore fits better as cult primary.
Only because they made a decision to fill out the GSC back story. I could more readily see them reabsorb the GSC back into the Tyranid codex: there is precedent for that: Black Templars into the SM codex and Scions into the Astra Militarum codex.
Like i said before even if gsc genestealers were the same points as the tyranid genestealers in 8e and/or in 9e it wouldn't change much. Because the unit profile does the same thing as an acolyte does but acolytes we can do more with. But if they gave them 2 wounds and a 4++ or 2 wounds 5++ and S5 4 attacks base I think they could have their place as a forward aggressive unit, even if they're like 15-20 points each.
That's a whole other problem. Genestealers are kind of superfluous in the GSC codex because acolytes do it better for cheaper. And metamorphs, don't get me started on metamorphs. I spent a fortune in metamorphs buying the way overpriced boxes and buying claws only to have them made obsolete. It really soured me on GSC. I spent nearly $400 on metamorphs alone only to have them deep sixed in a few months.
Well yeah thats because the GSC is much more interesting on a narrative level to be able to tell the tyranid story. You can have a human esque cultist tell us what a patriarch knows about the hivemind/hive fleets. Where as the Tyranids are just an unending force of hunger there is not really much of a narrative there.
Sure, maybe i'm just ignorant but with the new release of all the gsc models I don't really see that happening. It'd make our codex literally 2x as big and I think they're different enough lore wise to justify having their own codex's. That said GSC is definitely lacking, so i'd probably be okay with them just merging the two codex's together or having GSC as a supplement book of Tyranids going forwards.
Prices and etc can change, roles can chage. There is no reason an acolyte has to be S4 or a genestealer has to be S4 and both of them using rending claws as their primary focus for attacks. I think a lot of this lies in the way the game works I suppose like even if we made genestalers S5 and meant for killing primaris they'd also just kill chaff a lot better too cause you'd just take them as TH and now they're wounding/killing T3 thinks on 2's so there isn't really a way to make acolytes anti horde & anti tank whilst making genestealers anti MEQ because the rule overlap and how you get there is ultimately the same.
Metamorphs definitely feel pretty worthless in the codex, I'd probably just merge them with acoltyes and give acolytes more weapon options talons/some sort of extra rule for more genestealery heads. Even in the current codex they don't really make a lot of sense, where as if we could give acolytes a talon instead of rending claws im sure we might eventually use them more options is better.
I mean i think i have some pretty radical ideas on where the tyranid codex should go not just with this but like big creatures just costing like 2/3 what their current points are and also just having high T lots of wounds to make up for the fact that we dont have invulns and stuff.