Post by iniquity on May 8, 2020 12:57:32 GMT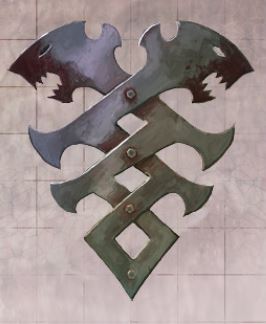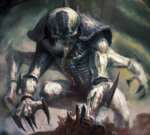 I went first on scorched earth out from CA2019
Turn 1:
I pushed up the board, got a turn 1 charge off through a ruin and tried to spread my stealers out as much as i could, i (please do not swear) up the combat apparently by leaving my stealers .1 of an inch too close so that my opponent could activate into me, lesson learned, measure better. I used metabolic overdrive to push another squad of hormagaunts up.
CP Usage: Opportunistic advance (1) Metabolic Overdrive (1) (Reroll catalyst on the stealers), Reroll the failed 5" charge on the stealers.
My Turn 1 end (image)
Opponents turn 1:
he disembarked his repentia from the rhino and reloaded it with a second squad, cleared out my stealers and picked up a squad of gants on my left flank.
Turn 2:
Seeing that i could get a wrap on the astropath guarding my opponents objective on the edge who was standing next to 1 model from a guard squad with the rest on top of a box i set up a sling, i cleared out some sisters pushing the middle objective on my left flank with my exocrine and hive guard, slung my stealers onto the objective and got the wrap, i killed the unit of repentia that was disembarked and put the rest of my attacks on the guard squad (thank you lone guardsman not on the box)
CP usage, opportunistic advance (1) reroll on catalyst (1)
My Turn 2 (End)
(image)
Opponents turn 2:
Repentia disembark from the rhino and 8 of them kill my stealers in one round of combat through catalyst and he picked up another squad of gants. Game was pretty much over from here.
My opponents turn 2 (Image)



What things can i do differently, is there anything that stands out as being out of place? He had a load of deep striking sisters with flamers that could shoot when they arrive etc hense the gaunts at the back. Im starting to think the malanthrope just isnt worth his points.
I'm working short of information on sisters, so I'm going to be making some assumptions - they may yield mistakes in the game in your knowledge, feel free to correct/point out, but hopefully it can give you a bit of an idea of what else you could have done.
TURN ONE
So first thing is that you're going first against a very tight army of mostly anti-infantry - you're looking at 1 Basilisk for anti-tank, meaning your Exocrene is invincible to shooting once the Bassi is down. You're going first, which means you get 1 turn of action before your Exocrene gets down'ed. It also gives you a rotation before eating the restrict movement strategem. Your opponent knows this, and has deployed most of his forces centrally, meaning if you T1 charge him, you might kill a unit, but you'll suffer the loss of that unit. I assume Repentia are FLY and 12" movement, so side wraps would have also met a similar fate (although with Catalyst you could very likely survive a few chicks trying to wound you on S3, so he'd have to burn both Repentias). Assuming Repentia are actually heavy guns and not FLY, then they're not even a consideration.
In essence, this leaves you with 3 options:
1. Charge the middle line and try to kill as much as you can with your Genestealers, then effect the super strategem combo to either cause even MORE devestation, or to run away and wrap a side. How effective this is would be determined by how much anti-infantry overwatch he has, and whether they are full rerolls or rr1s. Considering Celestine is suspected down middle, all the sisters have a 5++ (or 4++ possibly due to chapter?) and the guardsmen get a 6++, I THINK* they get an FNP somewhere, so your charge is going to end up killing way less than expected, and even if you do kill everything, Celestine Heroic Intervenes and screws up your plans (she's hard to kill, and she comes back - Genestealers do not like her nor her invuls). Best case, 2 Sister/Guard Units + Celestine dead. Worst case, 3/4 of a unit dead and GS locked in combat, about to be blendered by Celestine.
2. Get a side charge on the Basilisk (who is hidden, so I dont know what's standing between the GS and the Basi), or on the objective, and try to hold it over the next turn. This would yield you less damage impact since there's nothing important on either sides other than the basilisk, but create a huge pressure that your opponent has to clear. For the objective, if you raze that objective, his game is over, so he cant let you keep it until your turn again. For the Basi, He cant afford to leave the Basilisk stuck in combat, because that's his only way to kill the Exocrene (Celestine isnt going to murder him anytime soon). It's also the best way to kill the Hive Guard. Both of these are going to be killer performers after 3 turns of shooting, since Exocrenes will kill Power Armor chicks deader than dead (they have invuls I think, so less effective, but still very dead) and HG will mince everything in his army, and it's even safe for you to push the HG up to the 2nd ruin since he has no long range guns to kill you with (assuming Repentia are heavy guns and can reach HG, then moving up the middle is a bit more risky, but the GS side wrap is safe and clean). I'm not sure if the Exo can get into range to even shoot, but assuming he cant, then the best play here probably would have been to push him and HG up and go in on the Bassi to stop it shooting.
3. Do nothing. Keep most of your guys out of line of sight, holding back behind the ruins, with Hormagants/Termagants and Rippers being used to push out on these objectives. If I'm not reading wrong, he cant get rapidfire on you if your chaff model is sitting 3" away from either No Mans Land objectives (This is short edge deployment with 24" deployment depth and another 12" for centre of table, right? It looks like he didnt deploy on the line, meaning he'd have to move quite a bit to get 3" past the line to get RF range). That means he cant wipe a 25 man unit, and you will definitely claim that objective. You can get 2 units up on it on the neutrals. This will put you at a 3-1 advantage every turn you maintain it, so by T3 it becomes 6-2, then T4 it's 9-3. Just by denying him easy kills you will have to pressure him to move forward and try to fight these objectives away from you, putting him in easy access range of Genestealers, and the best part, they're separated, so they dont both get Celestine's buffs and reroll auras, and are easier to chow down on without risking a tonne in backlash.
Assuming you took the ideal position of: Move HG up, move Exo up, kill both Rhinos, got a GS unit into the Bassi and killed it, and wrapped something, you're probably sitting on a 4-2vp lead, since both of you will score First Strike. You'll be down 8cp? So you have enough for 1 more phase of carnage. Him conversely will be looking at no big guns, a GS unit in high priority position to dispose of, and some 12" FLYgirls and the rest are 6" footsloggers who will take a veeeeery long time to reach objectives, and 3 objectives to contest.
TURN TWO
Based on what I see, it's a castle player. Taking off from my turn 1, he'll pool the Repentia to kill the GS (maybe only 1 unit). Or, he'll Celestine into the GS and double Repentia to kill one of your units, which will probably fail still. So you'll have 1 half dead or almost dead Hormagant, a dead GS, and everything else still in position. He might push the rest of his army up, but it'll still be too far for RF - so one unit of Hormagants gets Rippers popped behind them to secure that over next turn, and the other one gets Rippers, Hormagants sitting on it. The other GS now goes for his exposed flank (the objective in his zone), or if the Repentia pushed up by themselves, go in on the backline while your guns blow the Repentia away.
TURN THREE
He cant catch up. GGWP.
*Note I'm making assumptions based on the summary list in the front and what I can see on the board - I didnt see the deepstriking flamers (I'm not aware of Sisters having flamers that can reach on DS.) The gaunts at the back and on the sides in that case is of course good - I'd use the unit of gaunts at the back and Rippers at the sides, and try to deny him any purchase down the middle.
Thanks for the reply, the guy was kind enough to send me his list. I think holding back would have definitely been better just to try and split him up. The basilisk was like tripple bubble wrapped and there was no way i was getting it. I didnt want to hold back because i was really worried that the basilisk would just tear me appart, either going for the swarm lord or the HG. and Yeah, he did have a 4++
Supposedly it was the seraphim that have a strat to double their range and shoot when they come in. My sisters knowledge is still pretty limited.
My opponents list:
++ Battalion Detachment +5CP (Imperium - Adepta Sororitas) [72 PL, 3CP, 1,342pts] +++ Configuration +Battle-forged CP [3CP]Detachment CP [5CP]Order Convictions:
Order: Bloody Rose
+ Stratagems +Open the Reliquaries [-2CP]:
2x Additional Relics of the Ecclesiarchy
+ No Force Org Slot +Inquisitor [4 PL, -1CP, 59pts]:
Blade of the Ordo, Bolt pistol, Ordo Xenos, Power sword, Stratagem: Inquisitorial Mandate, Xenos - Esoteric Lore
Repentia Superior [2 PL, 35pts]+ HQ +Canoness [3 PL, 53pts]:
Bolt pistol, Brazier of Holy Fire, Chainsword, Relic: Beneficence
Celestine [8 PL, 160pts]+ Troops +Battle Sister Squad [6 PL, 89pts]
. 5x Battle Sister: 5x Bolt pistol, 5x Boltgun, 5x Frag & Krak grenades
. Battle Sister w/ Special or Heavy Weapon: Storm bolter
. Battle Sister w/ Special Weapon: Meltagun
. Sister Superior: Boltgun, Hand Flamer
Battle Sister Squad [6 PL, 89pts]
. 5x Battle Sister: 5x Bolt pistol, 5x Boltgun, 5x Frag & Krak grenades
. Battle Sister w/ Special or Heavy Weapon: Storm bolter
. Battle Sister w/ Special Weapon: Meltagun
. Sister Superior: Boltgun, Hand Flamer
Battle Sister Squad [6 PL, 77pts]
. 5x Battle Sister: 5x Bolt pistol, 5x Boltgun, 5x Frag & Krak grenades
. Battle Sister w/ Special or Heavy Weapon: Storm bolter
. Battle Sister w/ Special Weapon: Storm bolter
. Sister Superior: Boltgun, Hand Flamer
+ Elites +Celestian Squad [6 PL, 114pts]
. 6x Celestian: 6x Bolt pistol, 6x Boltgun, 6x Frag & Krak grenades
. Celestian Superior: Boltgun, Hand Flamer, Power sword
. Celestian w/ Simulacrum: Simulacrum Imperialis
. Celestian w/ Special or Heavy Weapon: Storm bolter
. Celestian w/ Special Weapon: Storm bolter
Imagifier [2 PL, -2CP, 45pts]:
Heroine in the Making, Relic: Book of St. Lucius, Tale of the Stoic, Tale of the Warrior, Venerated Saint
Preacher [1 PL, 30pts]:
Chainsword, Laspistol
Sisters Repentia [5 PL, 117pts]
. 9x Sisters Repentia: 9x Penitent Eviscerator
Sisters Repentia [5 PL, 104pts]
. 8x Sisters Repentia: 8x Penitent Eviscerator
Sisters Repentia [5 PL, 117pts]
. 9x Sisters Repentia: 9x Penitent Eviscerator
+ Fast Attack +Seraphim Squad [7 PL, 119pts]
. 7x Seraphim: 14x Bolt pistol, 7x Frag & Krak grenades
. Seraphim Superior: Bolt pistol, Plasma pistol
. Seraphim w/ Special Weapons: 2x Hand Flamers
. Seraphim w/ Special Weapons: 2x Hand Flamers
+ Dedicated Transport +Sororitas Rhino [3 PL, 67pts]:
Storm bolter
Sororitas Rhino [3 PL, 67pts]:
Storm bolter


++ Battalion Detachment +5CP (Imperium - Astra Militarum) [21 PL, 3CP, 303pts] +++ Configuration +Detachment CP [5CP]Regimental Doctrine:
Regiment: Cadian
+ Stratagems +Imperial Commander's Armoury [-1CP]:
1 additional Heirloom of Conquest
Tank Ace [-1CP]+ HQ +Company Commander [2 PL, 30pts]:
Chainsword, Laspistol, Relic: Kurov's Aquila
Company Commander [2 PL, 30pts]:
Chainsword, Laspistol, Warlord, WT: Implacable Determination
+ Troops +Infantry Squad [3 PL, 40pts]
. 9x Guardsman: 9x Lasgun
. Sergeant: Laspistol
Infantry Squad [3 PL, 40pts]
. 9x Guardsman: 9x Lasgun
. Sergeant: Laspistol
Infantry Squad [3 PL, 40pts]
. 9x Guardsman: 9x Lasgun
. Sergeant: Laspistol
+ Elites +Astropath [1 PL, 15pts]:
Laspistol, Psychic Maelstrom
+ Heavy Support +Basilisks [7 PL, 108pts]
. Basilisk: Heavy Bolter
++ Battalion Detachment +5CP (Imperium - Astra Militarum) [19 PL, 4CP, 354pts] +++ Configuration +Detachment CP [5CP]Regimental Doctrine:
133rd Lambdan Lions
+ HQ +Tempestor Prime [3 PL, -1CP, 40pts]:
Progeny of Conflict, Relic: The Laurels of Command, Tempestus Command Rod, WT (133rd Lambdan Lions): Keys to the Armoury
Tempestor Prime [3 PL, 40pts]:
Plasma Pistol
+ Troops +Militarum Tempestus Scions [3 PL, 36pts]
. 4x Scion: 4x Frag & Krak grenades, 4x Hot-shot Lasgun
. Tempestor: Bolt pistol, Chainsword
Militarum Tempestus Scions [5 PL, 119pts]
. 5x Scion: 5x Frag & Krak grenades, 5x Hot-shot Lasgun
. Scion w/ Special Weapon: Plasma gun
. Scion w/ Special Weapon: Plasma gun
. Scion w/ Special Weapon: Plasma gun
. Scion w/ Special Weapon: Plasma gun
. Tempestor: Chainsword, Plasma pistol
Militarum Tempestus Scions [5 PL, 119pts]
. 5x Scion: 5x Frag & Krak grenades, 5x Hot-shot Lasgun
. Scion w/ Special Weapon: Plasma gun
. Scion w/ Special Weapon: Plasma gun
. Scion w/ Special Weapon: Plasma gun
. Scion w/ Special Weapon: Plasma gun
. Tempestor: Chainsword, Plasma pistol
++ Total: [112 PL, 10CP, 1,999pts] ++
Created with
BattleScribe