Post by hiveoverall on Jan 28, 2019 12:50:49 GMT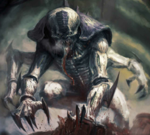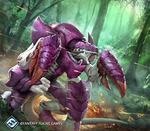 You are right to fear the grotesques, but it's kind of the only unit that is really threatening. How many will he be bringing ? Ravagers are a lot more squishy than many vehicules, and their 36 range means we can get to them. Venoms are really squishy (hormagaunts can kill them) and not that cheap if you consider the dudes they carry, who die if you surround the venom with hormagaunts hah hah.
As I said though, a DE with 3*10 grotesques is unbeatable against a tyranid army IMHO. I won because they were only 2*8

Raiders, sorry, not ravagers.
He has one unit of ten Grotesques buffed to T6/4++.
Nice list with the Warriors, although we're not playing ITC so that probably changes things

If he has one unit only, then you should be ok if you don't use monsters too much. If you use monsters they will die horribly hah hah, as DEs have so many tools to deal with them... Stealers might not last long either mind you. Massed gaunts with hidden characters will do wonders though (no big suprise here, the general meta pushes us towards that type of list anyway so).
Whats type of nid list do you want to bring ? Warriors work very well against DE, well against anything with not too much dmg 3 weapons really. It's not an ITC thing, but they get neutralised when tied up in close combat by talos or grotesques whcih they cannot harm much with their dmg 1 close combat weapons. They did shave off quite a few wounds thanks to hitting on 2+ with prime near by