Post by NidNoms on Sept 4, 2015 14:55:42 GMT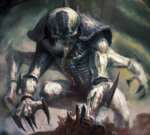 as for psionic vs warp, I believe warp is stronger, as in the starcraft universe while psionic is rare, they have no real disadvantage in harnessing it. HOWEVER the warp, even the best pskers in the 40k universe, have trouble drawing from its vast power ('dragged into the warp' etc)
So to rectify what I said before, lets be fair and say warp and psionic cancel each other out (even though we know where I stand) in the end it really does boil down to speed, my personal belief is in this one regard Kerragan is indeed faster/ more agile. being far smaller than the Swarmlord would also make her harder to hit. HOWEVER we must remember that the swarmlord is used to fighting heroes far smaller than himself. Do I believe Kerragans speed is enough to outclass the swarmlord...... no as I said before, even one mistake and would die, the longer the fight goes on the more the swarmlord can adapt to compensate. and unfortunately with psionic out of the way Kerragan has no fast way to take down something of his size. at this point i'll probably hear "but she ripped clean through a Viking"......you really think her psionic had nothing to do with that? and even if she could she would get within reach of the swarmlords deadly blades. that's without even touching on the fact the swarmlord can use his own ranged attack (warp lance) self healing (catalyst) and nova powers, but as I said.... we're assuming the powers cacel each other out.
While I love Kerragan's character, and it was in fact the zerg that converted me to tyranids, the swarmlord is just too strong for any "1" hero.
OFF TOPIC: finally to those who say the swarmlord is useless on the tabletop.... you obviously don't play him right, every game I play him he is feared, and rightly so, forgetting his Overwhelming CC presence his special rules (preferred enemy/ furious charge to 1 tyranid unit, -1 to reserve rolls, 18" synapse) more than make up for his points, even if he just herds the enemy into a corner, he helps maintain board control
sorry for that last outburst, I just dislike people disregarding the swarmlord "because his points are too high" stop thinking about point vs points and think about what units you'd "enjoy" using in your army.
well said, the Swarmlords bone sabers are not something to be hit by. Also with the Viking thing it could be said that the Swarmlords Carapace is much tougher then the Viking armor. Plus while Kerrigan does have a speed advantage, it be like the Death Battle of Godzilla vs. Gamera, Swarmlord just trumps Kerrigan in all other stats. And with the talk of the Swarmlord game wise, he's a very good model on the field, makes dealing with Space Wolf Terminators easier.