Post by on May 31, 2008 8:09:08 GMT

Ok firstly please visit
www.thepainteddragon.co.uk/forum/index.php
and if you like what you see join and say hi, and the rest of the forum will be unlocked, including my definitive nid blog including army lists, fluff, wip, tutorials etc
Forgeworld Tyranid Hierophant assembly guideContents
1. Introduction
2. Parts
3. Dry Fit
4. Clean Up
5. Reinforcement
6. Pinning
7. Bending Resin
8. Spikey Bits
9. Greenstuffing
1. Introduction.
This guide is specific to building a hierophant but a lot of the techniques and explanations relate to Forgeworld kits in general.
2. Parts
So what do you get in the box?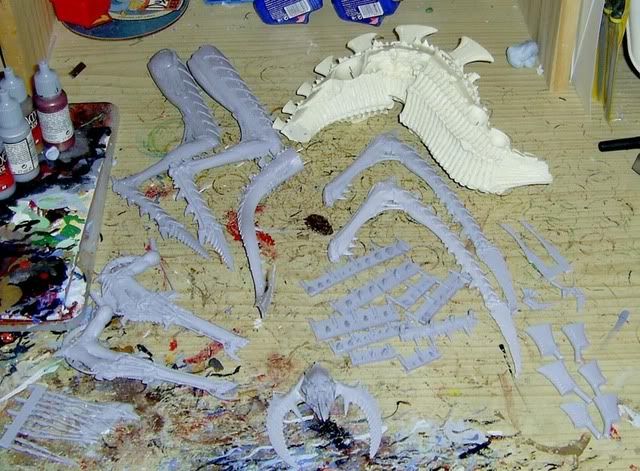 Left and right rear legs
Left and right front legs
Left and right biocannons
Left and right head mandibles
1x Rear leg support sprue
Left and right mini body claws
1x head
10x Sprues of spikes (62 spikes in total)
6x back exhaust vents
1x Main body
1x Tail
1x Sprue of lash whips
3. Dry Fit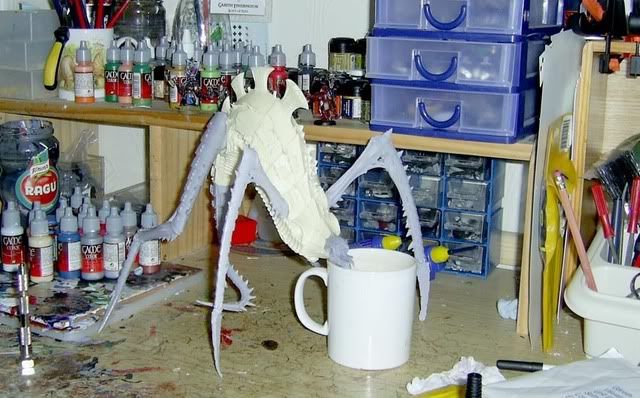 Its important to do a dry fit of parts before rushing into a project. A dry fit will show you problems with the kit at the first hurdle, allowing you to plan and work out what needs to be done.
In this instance the dry fit uncovered 2 flaws in the hierophant kit!
A. The weight of the main body can not be supported by the thin legs. This is a shocking discovery and required a solution which is covered in parts 5 and 7. In the picture below the white arrows illustrate areas suffering under the weight.
B. The fit of the legs/tail left huge gaps in the joins. This was an issue as i was planning on painting the parts separatly and assembling once painted. But Greenstuffing parts once painted sounds a nightmare. The 4 legs and tail, will be pinned and greenstuffed before undercoating.
4. Clean Up
Forgeworld kits usually come covered in mouldlines, flash (excess material in this case resin) and require heavy duty cleaning.
Safety - Resin dust enhaled is bad for you, wear a dust mask when sanding down large amounts of resin!
I cleaned up each part by scraping with a craft knife and sanding with files. Some areas you can only get to with hooked and curved files.
After that, i set about giving the beasty a soapy bath, this is important, you have to remove all the mould release agent from the parts otherwise when you undercoat you'll get a paint reaction or the paint won't adhere to the kit and will flake off.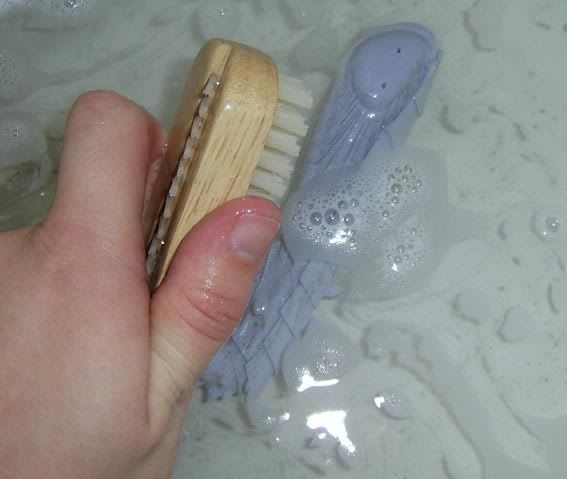 5. Reinforcements
The next problem was the flimsy front legs. This is a heavy kit and the front legs and claws aren't up to the job of supporting the body. So i decided to cut the legs in half and and steal one of my fianceé's coat hangers. I cut the coat hanger in pieces using a hacksaw. A dremel also works, but clippers won't work. This is a very tricky and potentially costly part of the process so i must stress take time and care when cutting a £185 models legs in half.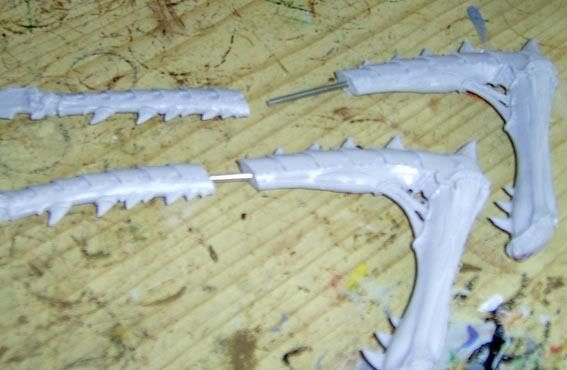 I also cut the claws into pieces and pinned those back together using paper clips, this will also add strength to the flimsy weak claws. The white arrows show the joins, these need to be tidied up with greenstuff.
This is where all the pins are in each front leg.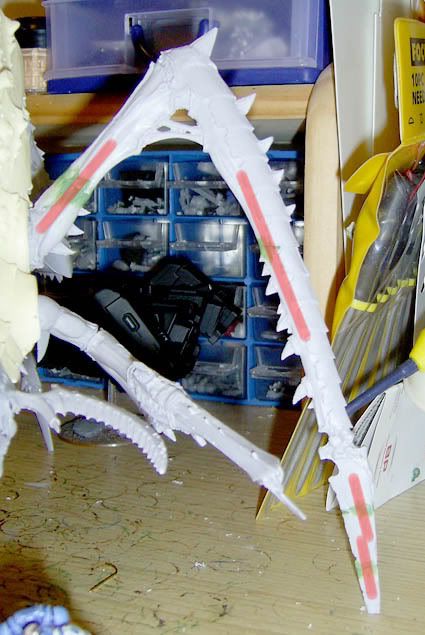 6. Pinning
Pinning is extremely important. It adds much needed strength to large kits with heavy parts.
A. Hold the piece at the angle it will be on the model, then drill horizontally into the piece. I did this by hand, but bench vices are good for this. For this gun arm (and all the legs) i drilled 2 holes side by side horizontally. I did this because of the weight of the gun pulling down on a single central pin could make it rotate, 2 pins side by side means it can't rotate.
B. Next up the pin. I get through so many pins on all my models i find the cheapest and best way is to use paper clips. I cut these to size using a very cheap pair of clippers bought off a market stall for 50p. Don't use GW £6 clippers, it will knacker them.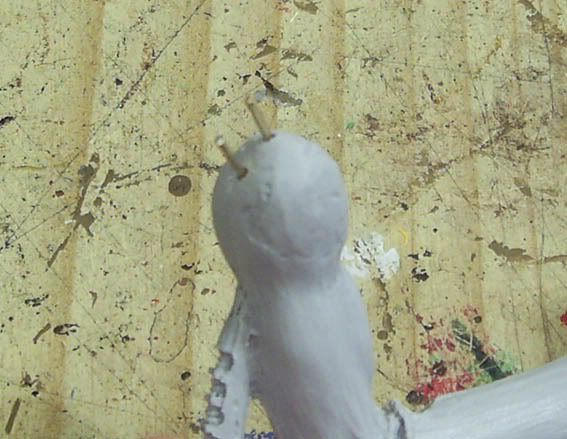 C. Then, i superglue 2 lengths of pin into the arm ball joint.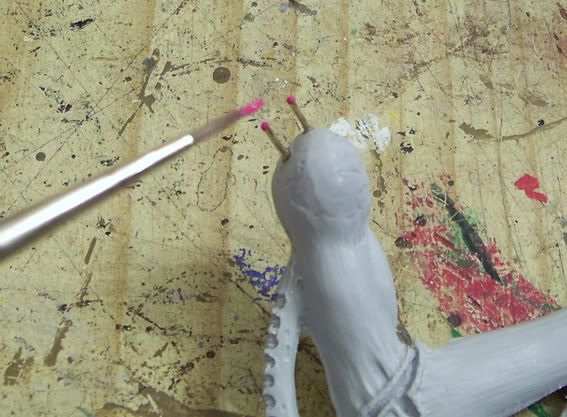 D. Dab some paint onto the ends of the pins. And line it up against the phants shoulder socket. You should be left with 2 dots on where to drill.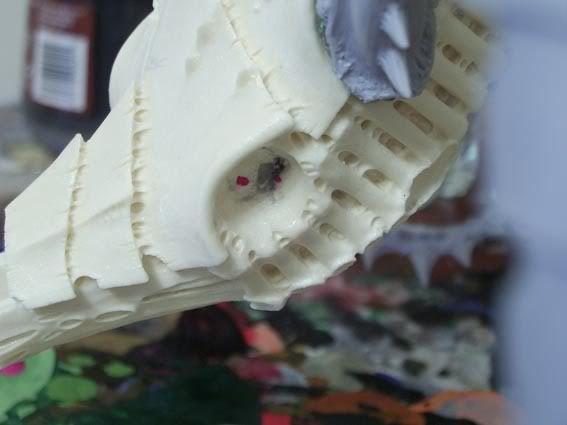 E. Once you drilled in push the arm on, perfect fit! Don't glue at this stage as the arms do get in the way of painting. Its just the legs that needed gluing and greenstuffng in place.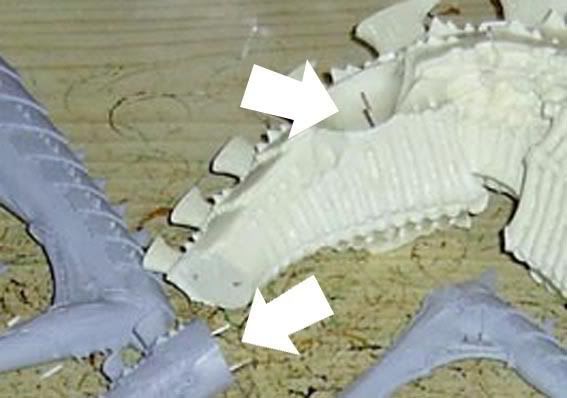 In the above picture you can see i've double pinned the legs and tail parts. I then glued this together and and packed out the joints with greenstuff...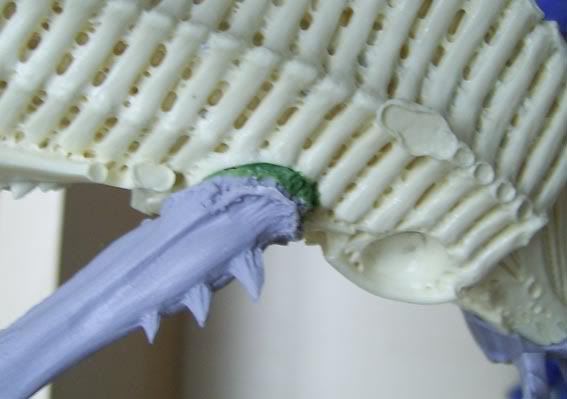 The pinning, superglue and greenstuff form a very strong bond and support for the joins. Personally i think you have to assemble in full with this kit rather then paint each part separately. The main reason for this is the poor fit. In the above picture you can see the size of the gap that had to be filled with g/s.
I also pinned the mandibles to the head.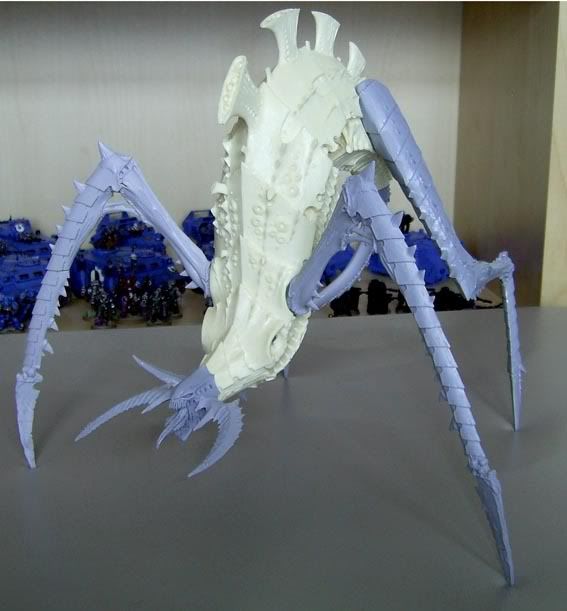 7. Bending Resin
Once the tail and the 4 limbs are on, you need to start worrying about 2 things.
A. The weight of the model bending the limbs.
B. How rigid it is. No one wants a wobbly phant.
Whilst the front legs seem plenty strong enough after my reinforcing, it appears the rear legs tend to bend rather quickly, because the lower shin part of the leg is at an angle. It was obvious that if this was at a right angle and near vertical it would support the load better. To do this the rear legs needed to be bent.
First thing i did was steal the fianceé's hair dryer as i don't own a hair dryer...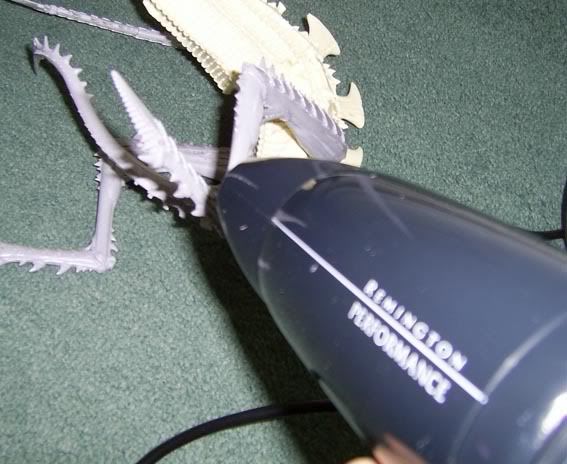 I highly recommend the Remmington Performance High Dryer. Heat the area up for a minute or two, you will feel the resin go really plyable and bendy.
Whilst holding the part in its new position place the heated part under a cold running tap.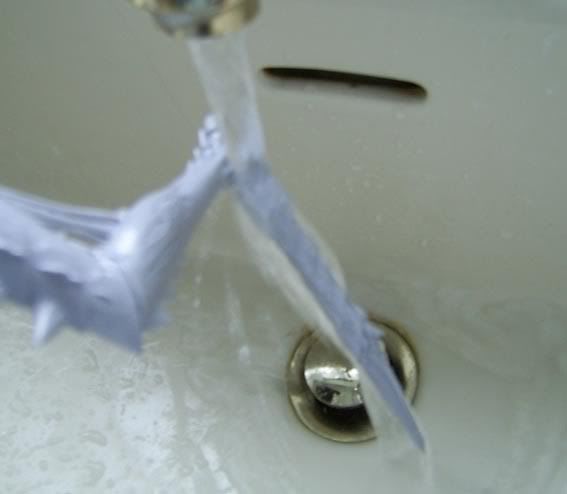 Saftey - Don't play with a hair dryer anywhere near running water. Do the hair dryer stage in a separate room!
Your legs should look more like this. You will need to do a bit of tweaking at the front legs too. Make sure the phant is standing on a hard flat service so you can line up all the legs.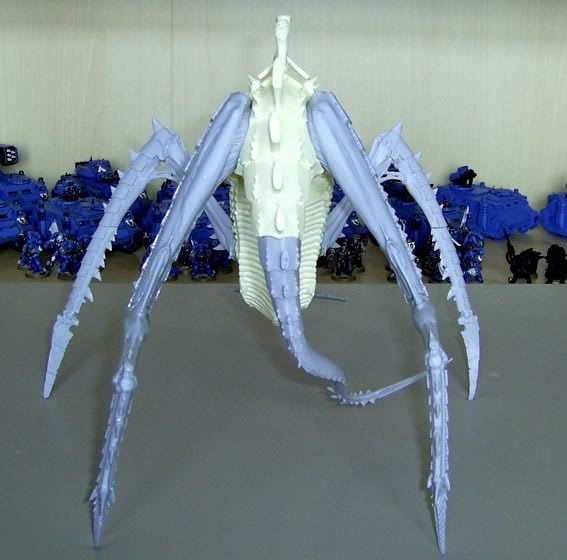 8. Spikey Bits
I started pinning the spike to the body. There are 62 of these spikes and i spent 2 hours pinning 22 of these to the body. I spent 30 minutes on the floor looking for dropped spikes!
Important - make sure keep your work area very clean and uncluttered. Makes finding dropped spikes easier.
Some of the tiny spikes require tiny pins. You may think this is overboard pinning such tiny pieces but its a gaming piece and if it wasn't pinned you can guarantee they'd come off. Its worth putting the extra effort in.
Using tweezers helps with the tiny spikes as such a small piece, fingers and superglue isn't a good combination!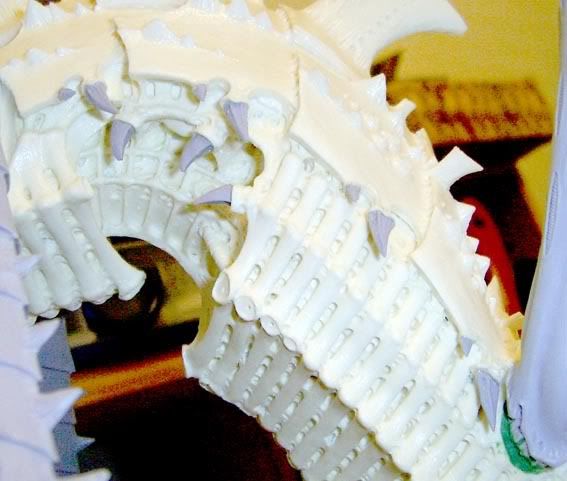 Each of these spikey bits is pinned!!! Takes forever!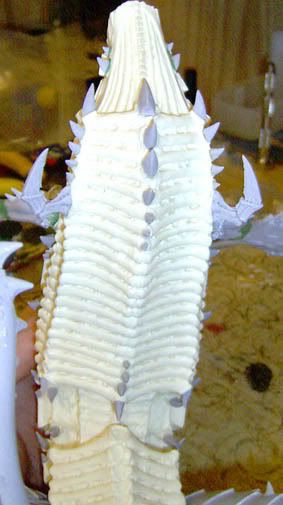 9. Greenstuffing
Greenstuffing is required to hide gaps and joins, and even rework pits and holes from a poor a cast.
All you need to do is mix some blue and yellow putty together, then take the greenstuff and wack it in a gap. Using a wet tool smooth it off. Once its cured (dry/hardened in 3-4 hours) you can sand/file it smoother further.
In the pics below you can start to see areas that needed greenstuffing.